Our 50th Art Show 2022
Thank you to all the artists who have already submitted their artwork for the 2022 Mornington Art Show.

Time is rolling on and submissions close on Sunday December 19, so please send your entries in to be part of our 50th Anniversary Art Show.
Artists can enter either Physical & Virtual, or Physical only or Virtual only.
Terms & Conditions for the Virtual show can be viewed under the Artist tab above.
The Virtual (Online sales) runs from Sunday Jan 23 -30.
The Physical Art Show will run from Thursday January 20 (Opening Night) until Wednesday 26 (Australia Day) 2022.
Gala Opening Night Tickets
Tickets for the Mercedes Benz & The Bays Gala Opening Night are now available online for purchase. Tickets are $30 per person and include entry to the Art Show, drinks and gourmet finger food plus live music from the Bakery Boys Jazz Band.
For details see below in the Events section or on Latest News.
Prizes & Awards
To celebrate our 50th Anniversary Art Show prize money has been increased significantly.
Best Exhibit any medium will now be awarded $2000.

Best Mornington Peninsula Scene $1000 (Bernie & Susan Taylor Memorial Prize)
Packing Room $500 (Don Gordon Memorial Prize)

Best Oil $500

Best Acrylic $500

Best Watercolour $500

Best Drawing or other medium $500

Best Pastel $500

Best Abstract/Modern $500

Best Photography $250

Best VCE Artwork $250
People's Choice $250
Artist Submissions
It is important that artists read the Terms and Conditions before entering the Mornington Art Show to be well informed and to avoid any misunderstandings.
The full Terms & Conditions can be found on the Artist Tab on the Tool Bar.
Examples of some of the T&Cs are:
Each art work must be the original uncopied work of the exhibitor, have been executed during the 18 months which precedes 1st January 2022 and must be for sale at the nominated price inclusive of GST where applicable.

All art work must of a durable material, made ready for hanging (fitted with substantial hanging wire or heavy duty cord and 'flush D hangers'- NB eyehooks are not acceptable). Identifying labels supplied by the Organisers must be affixed securely to the rear of the work.
New Location Same Address
This year's Art show will be situated in a brand new building located at the same address as previous Art Shows.
The New Mornington Community Centre and Studio will be the venue for our 50th Anniversary Art Show in 2022.
This newly built facility offers excellent display areas and is exceptionally well-lit, ideal for the displaying of Artworks.
The Art show committee is excited to have access to this brand new venue for our 2022 Art Show.
This new venue is located just across the car park from the Peninsula Community Theatre at the same address, corner of Wilsons Road and Nepean Hwy, Mornington.
Our 2022 Feature Artists and Judge
Details of both Feature Artists- Jayne Henderson and Yesim Gozukara and Judge -Pamela Pretty can be viewed on Latest News.
Key Dates for 2022

ARTISTS:

Submissions open Monday November 1 2021

Submissions close Sunday December 19 2021
Notification to successful artists January 1 2022
Delivery of Artworks
Pick up of unsold Artwork Thursday January 27, 2022
Art Show Dates
Opening Night Thursday January 20, 2022
Art Show open daily Friday January 21, 2022
Art Show closes Wednesday January 26, 2022
Online sales from Sunday 23 -Sunday 30, 2022
LOCATION
The New Mornington Community Centre & Studio
Cnr. Wilsons Road & Nepean Highway, Mornington
Couriers:
Date: Thursday Jan 20, 2022, 7:00 pm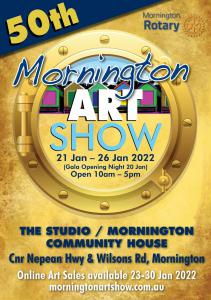 Mercedes Benz & The Bays Gala Opening Night
In keeping with Covid requirements attendees will need to show proof of vaccination.
View ...